Thailand is one of the world's top travel destinations...
Thailand is full of culture and amazing experiences. Thailand is an exotic travel destination that offers breathtaking experiences to travelers from different corners of the world.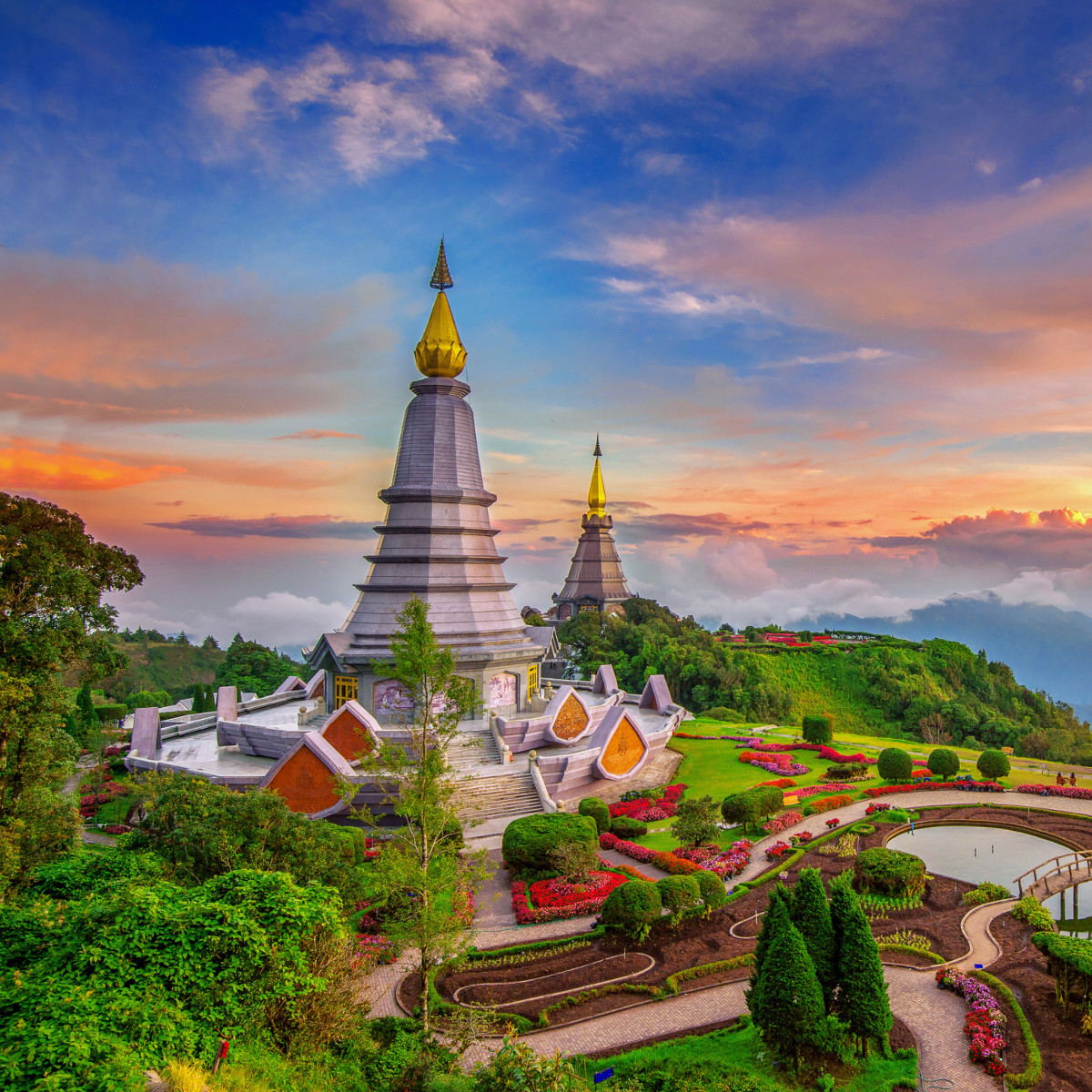 Thailand has become known as The Land of Smiles.
---
Thailand is has a vast amount of things to explore:

- Rich History & Culture

- Unbelievable Thai Cuisine
- Mind-Blowing Street Food

- Buddhism, Monks, and Temples
- Affordable Travel Costs
- Friendly People
- Incredible Nature

- Amazing Wildlife
- Elephants & Monkeys

- Stunning Beaches

- Island Adventures

- Famous Diving Spots
- Astonishing Night Markets

- Fantastic Festivals
- Amazing Nightlife
- Thai Massage
- Muay Thai (Thai Boxing)

- Nomad Friendly

---
Location
The Kingdom of Thailand is located at a strategic crossroads in Southeast Asia. With an area of over 200,000 square miles, Thailand is the second largest nation in Southeast Asia.
Topographically, Thailand presents a varied landscape of forested mountains, dry plateaus, fertile river plains, and sandy beaches. Mountain ranges extend along the border with Myanmar and down to Malaysia. Another range splits the country in half from north to south.
Thailand has over 2,400 km (1,500 miles) of coastline and 1,430 islands.
Total Area
198,116 Square Miles
513,120 Square Kilometers
Land Area
197,255 Square Miles
510,890 Square Kilometers
Water Area
861 Square Miles
2,230 Square Kilometers
---
Climate
Located at 20 degrees north latitude, Thailand is generally hot and humid with a climate that is classified as tropical monsoon. A pronounced rainy season lasts from July to October. From November to February, the northeast monsoon brings a cooler, drier period, when the humidity drops from an average high of 95 percent to an average low of 58 percent. During this season, temperatures typically range from the mid-60s in the early morning to the mid-80s during the day. The period from March to June is Bangkok's summer, which is usually hot and humid; temperatures can reach 100° Fahrenheit.
Language
While the official Thai language is widely spoken throughout Thailand, many Thais also speak and understand English, though more so in Bangkok and the major tourist areas. As visitors to Thailand also include many Europeans and other Asians, Thai people's language skills often also include these other languages to varying degrees. The Thai language itself is challenging to master, but
While the Thai language is the official language of Thailand, one could say English is its unofficial second language. As tourist
and business visitors from around the world have traveled to Thailand, English naturally has become the common linguistic "currency" even while many of those visitors learned how to speak Thai.
Thai people are happy to help foreigners learn a few words to help them get around. However, English is typically the common currency for cross-cultural conversation as Thailand hosts visitors from around the world.
---