Join the R52 Community today!
It's FREE, and you'll have the opportunity to co-create with others, easily share your ideas, and connect with like-minded individuals in a supportive environment.
By joining our community, you'll be able to collaborate on projects, brainstorm new ideas, and gain inspiration from others.
This is a great chance to be part of a vibrant and engaging community.

---
Join our community of Dreamers, and let's connect around the world.

R52 Free Resources For Members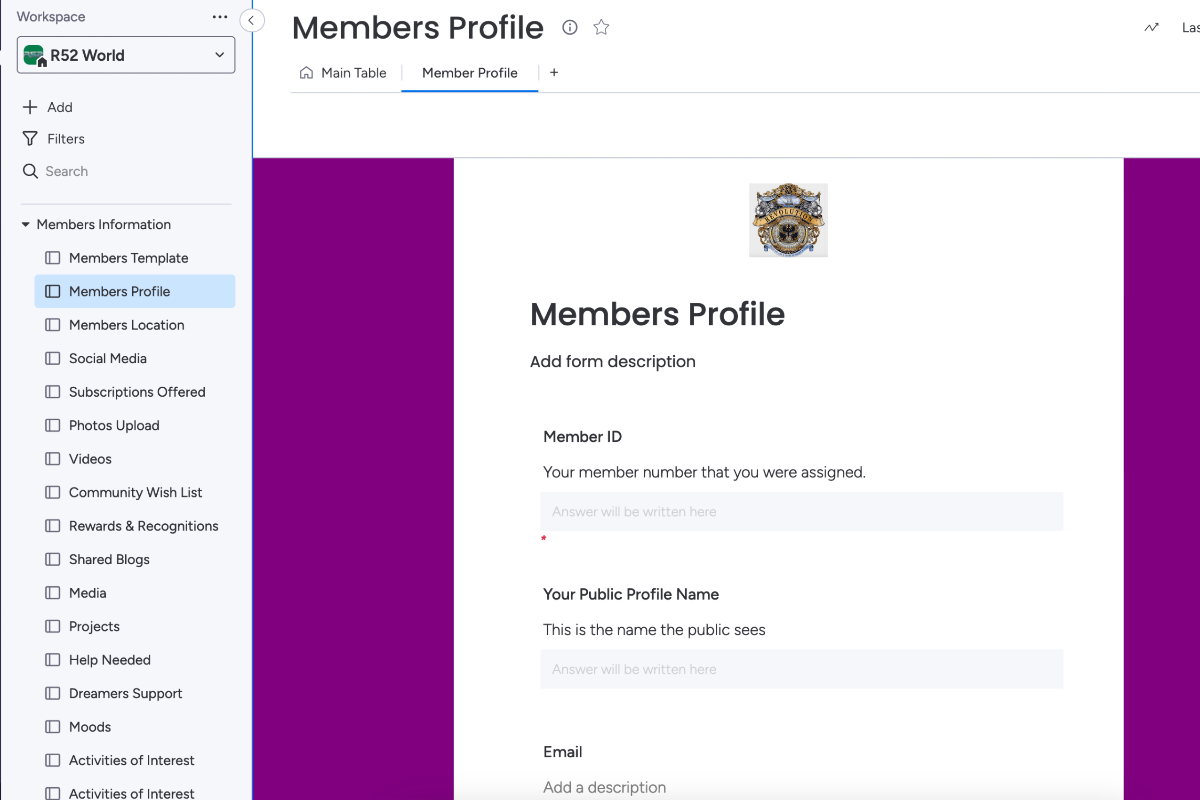 Your portal is your gateway to the R52 Community

You will be able to access Member resources for free.

Inside your account you can easily create & customize your profile, post status updates, and upload images and videos to showcase your personality and creativity.

Share your interests, ideas and more with the Community.

You can join conversations with other members, exchange knowledge and perspectives, and contribute to meaningful discussions.

Access to Members Only Interactive Member Maps

Maps provide insights, data and real-time information.

Use member maps to discover new community hot spots and learn more about where people are interacting as a community.

Member Benefits

Being a member of a supportive community for like-minded people can have several benefits, including:
Sense of Belonging: Being part of a community that shares your interests and values can provide a sense of belonging, which is essential for your mental health and well-being.
Emotional Support: Being part of a community can provide emotional support and comfort during tough times, as you have a group of people who understand your struggles and can offer empathy and support.
Networking Opportunities: A supportive community can provide networking opportunities, where you can meet people who share your interests and potentially form new friendships or professional connections.
Learning and Growth: Being part of a community can provide opportunities to learn and grow through the knowledge and experiences shared by other members.
Positive Reinforcement: A supportive community can provide positive reinforcement and motivation to pursue your goals and dreams, as you have people who believe in you and want to see you succeed.
Overall, being part of a supportive community can provide a sense of purpose, connection, and personal growth, which can have a positive impact on your life.
---
Examples Benefits:
R52 Rewards & Recognition Program
R52 Cooperative Community Program
Opportunity to become a R52 Provider
Member Directory (coming soon)
Interactive Maps (coming soon)
Conferences and Conventions
Member Celebrations & Milestones
Member Newsletters & Blogs
R52 Awards & Recognition Program
And More Exclusive Member Benefits
---
---